Raym offers personal sessions and courses in the Byron Hinterland.
Unbeliveably True Stories
Every two weeks a new, true Crystal Dreaming® story from "Spirit World" is released online at Diary of an Urban Shaman
Chicchan's music
Sound healing with pure quartz crystal singing bowls captured in stunning audio.
A form of vibrational crystal healing is created through the sound generated by pure quartz crystal singing bowls. The powerful and exquisitely pure healing sounds that these bowls produce when played is amazing. It has to be experienced to be believed. When these bowls are played in a particular sequence they release blocked energy held in our physical, emotional, mental and spiritual bodies. These forms of vibrational crystal healing, are a surprisingly effective method of lifting our vibration or energy levels.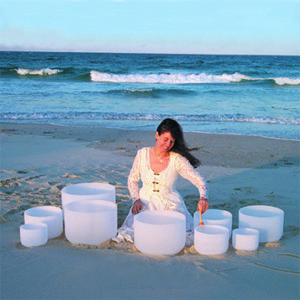 Crystal Dreaming
This album creates a timeless space for you to deeply relax and meditate. 45 uninterrupted minutes of the pure sounds and vibrations of 9 crystal singing bowls.
Ideal for deep personal meditation, groups and therapists.

A review of "Crystal Dreaming" from "White Light" magazine...
"If gentle reader, you have an understanding of the effect of pure sound on the consciousness, you would delight in this simple CD. I listened three times to this 45 minute. sound experience and loved the gentle purity of its effect on both me and my home. This is a 'sound experience' of 9 crystal 'singing' bowls beautifully played by Chicchan. No frills, no words, no support instruments, no extra's, just the clear vibrations of these wonderful instruments. The tones vary and I felt bathed by their healing as I did my housework enveloped in (for a change) peaceful simplicity. I would encourage music students, healers, doctors and anyone overloaded by stress to enjoy this delightfully different form of music therapy. I also loved the photographs taken on the beach - so joyful and clear. Thank you for the opportunity to review this CD!!"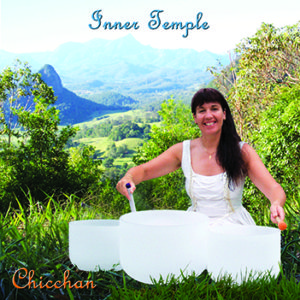 Inner Temple
The two tracks "Heaven" and "Earth" on this CD, express these qualities through a synthesis of the sounds and vibrations of crystal singing bowls, tone chimes, bells and toning. Relaxing and aligning, this CD supports the release of cellular memories held in the body/mind, creating lightness of being and clarity of thought. Ideal for personal relaxation and therapists.

A review of "Crystal Dreaming" and "Inner Temple" from "Living NOW" magazine...
"Recorded in New South Wales these two CDs are true bliss. Chicchan plays singing bowls - nine pure quartz crystal bowls. The sound is mind-blowing. Personally, the impact that listening to these recordings has on me is profound. I am transported beyond my perceived reality into another state of consciousness. Their sound is rich and subtle. It is gentle but can shake your very foundations. I recommend that you listen to these CDs on a high quality stereo system as the resonant frequency from the bowls can play havoc with your speakers. These CDs are for meditators who are not afraid to take their practice a step further. Ideal for meditation groups and sound therapists."


Chicchan's albums are also available from us by mail order as a CD or USB flash drive within Australia, $17Au each (incl gst p&p)
To Order within Australia order by phone with credit card by calling (02) 66 843 467
If you prefer to receive the albums electronically download from this page or search iTunes or Amazon Music for Chicchan.
Raym's books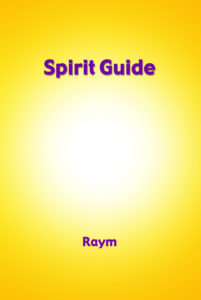 Spirit Guide - FREE Now also FREE at Apple iBooks and Kindle
Updated 2016
Your complete guide to the Golden Age.
"It is a "must read" for everyone, especially those embarking on a spiritual journey. I highly recommend it"
Dr. Patricia Bragg ND PhD.
"...easy to read, entertaining and informative. An indispensable guide. Highly recommended".
Your Destiny Magazine.
Also available as a hard copy from us or Amazon.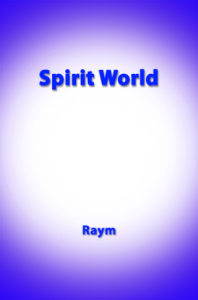 Spirit World
Updated 2019 - 60 true stories
This book contains first hand accounts of profound and life-changing interactions with the Spirit World experienced by ordinary people. Through these true stories Raym unlocks the secrets of the real but invisible spirit world that surrounds us.  He shares  insights, explanations and exercises that reveal the awesome power for good, that can be accessed by every one of us, through Crystal Dreaming®, now.
"Raym is a master story-teller, but more than that, his stories are factual, these things are experienced by real people. You will not only be entertained by this book, but you will read fascinating details of realms hidden from most of us. One day you may even be able to apply what you learn here in your own life."
Elizabeth Jewell Stephens, Editor, LivingNow
Also available as a hard copy from us or Amazon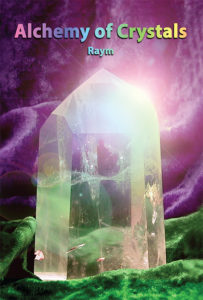 Alchemy of Crystals
Updated 2022
Crystal Dreaming® the entire advanced crystal healing technique in one easy to read book.
"Raym has developed a powerful and truly transformative therapeutic method... I can confirm, as a scientist, as a doctor and as a psychiatrist that what I experienced was life changing".
Dr David Burton  MB.BS B(sci).
Also available as a hard copy from us or Amazon.
To order a hard copy within Australia call (02) 66 843 467 with your credit card details
Spirit World $27 Au
Spirit Guide $27 Au
Alchemy of Crystals $33 Au
Price includes surface mail to your address within Australia. If you live outside Australia and prefer a hard copy, paperbacks are available through Amazon
FREE - MP3 Guided Meditation
Short personal cleansing and and protection meditation
Download
practice twice daily, morning and evening or use in any challenging situation.
Extended version
Download
includes creation of surrounding sacred space, suitable for groups or clearing a bedroom prior to sleep.
Raym offers personal sessions and courses in the Byron Hinterland.